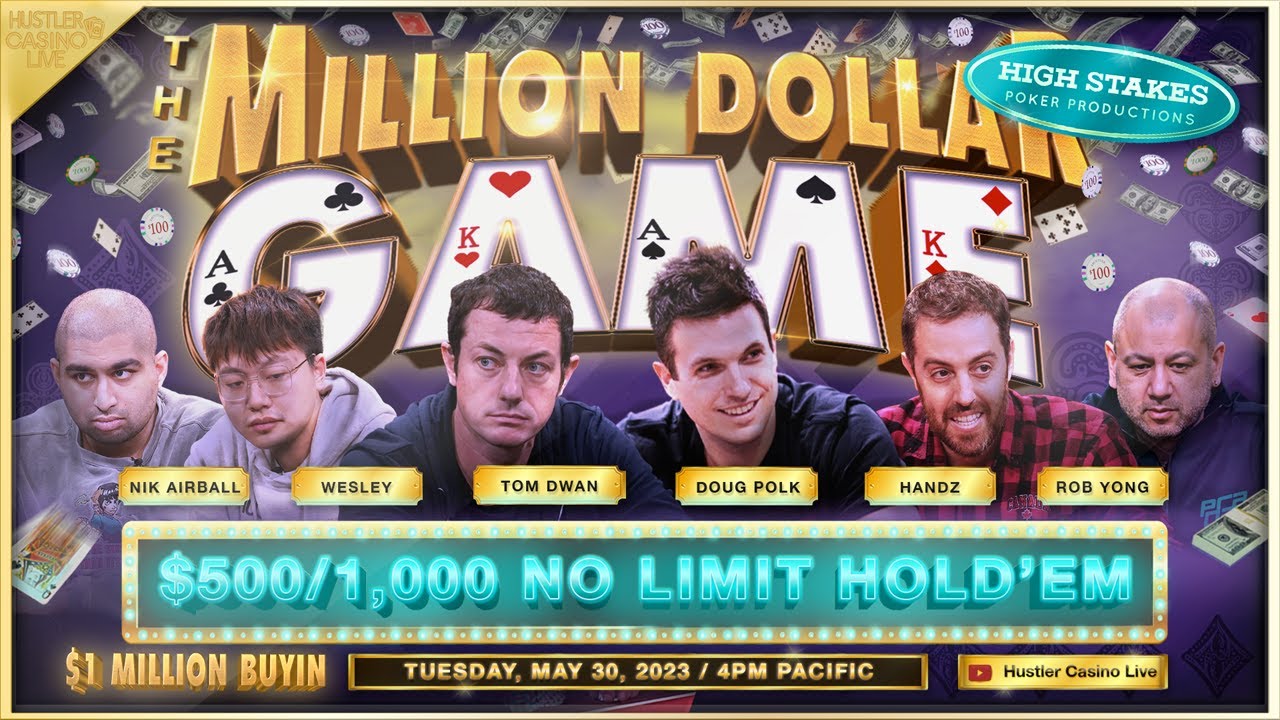 The Million Dollar Game – Day Four Recap
"Get that man a beer!"
As a combined result of players' availabilities along with providing some much needed rest for several players and the crew of Hustler Casino Live, it was decided to move day four to Tuesday. Finally, at 5pm on Tuesday afternoon, the friendly and rested voice of ChatPro favorite, DGAF, popped up over the view of players settling on to the stage of the Crystal Room.
"Welcome to the finale – night four of The Million Dollar Game on Hustler Casino Live. We are brought to you by High Stakes Poker Productions and the world famous Hustler Casino – located smack dab in the heart of Los Angeles, California."

@DGAFPokerPlayer
Headlining day four came not one, but two major names of the poker industry – Tom Dwan and Doug Polk. Both players made their rise to poker fame in the early days of the online boom – first Dwan around 2007 and Polk would be soon to follow just a few years later. In addition to building incredible careers, these two are no strangers to high stakes poker action. Veteran viewers knew they were tuning into history in the making while new viewers would not know what was about to hit them.
Returning from day three, ready and rested, were Rob Yong, Handz, Wesley, and Nik Airball. Joining the mix. Completing the lineup were Haralobos "Bob" Voulgaris and LSG Hank. Most players of the final night of The Million Dollar Game came with the required minimum buy-in of $1-million. Wesley, however, bellied up to the table with $3-million just like he had on day three. The game started 7-handed as Bob would join later in the evening. By the end of the 14-hour stream, nearly $11-milion made its way to the table.
Early in the show, Doug Polk predicted we could possibly see a $2-million dollar pot. But, he definitely didn't predict that he'd be the one put to the test in order to make that happen. From bluffs to binks, from tanks to snaps, another daunting task had been put in front of the content team – picking the Top 10 Hands of Million Dollar Game Day 4.
| | |
| --- | --- |
| Player | Cumulative Winnings |
| Tom Dwan | $1,600,000 |
| Rob Yong | $919,000 |
| Handz | $400,000 |
| LSG Hank | -$82,000 |
| Haralobos Voulgaris | -$160,000 |
| Wesley Flan | -$753,000 |
| Doug Polk | -$928,000 |
| Nik Airball | -$997,000 |
Thank you to everyone for tuning in to and for joining us for The Million Dollar Game Series and every weeknight at 5pm PST on Hustler Casino Live!