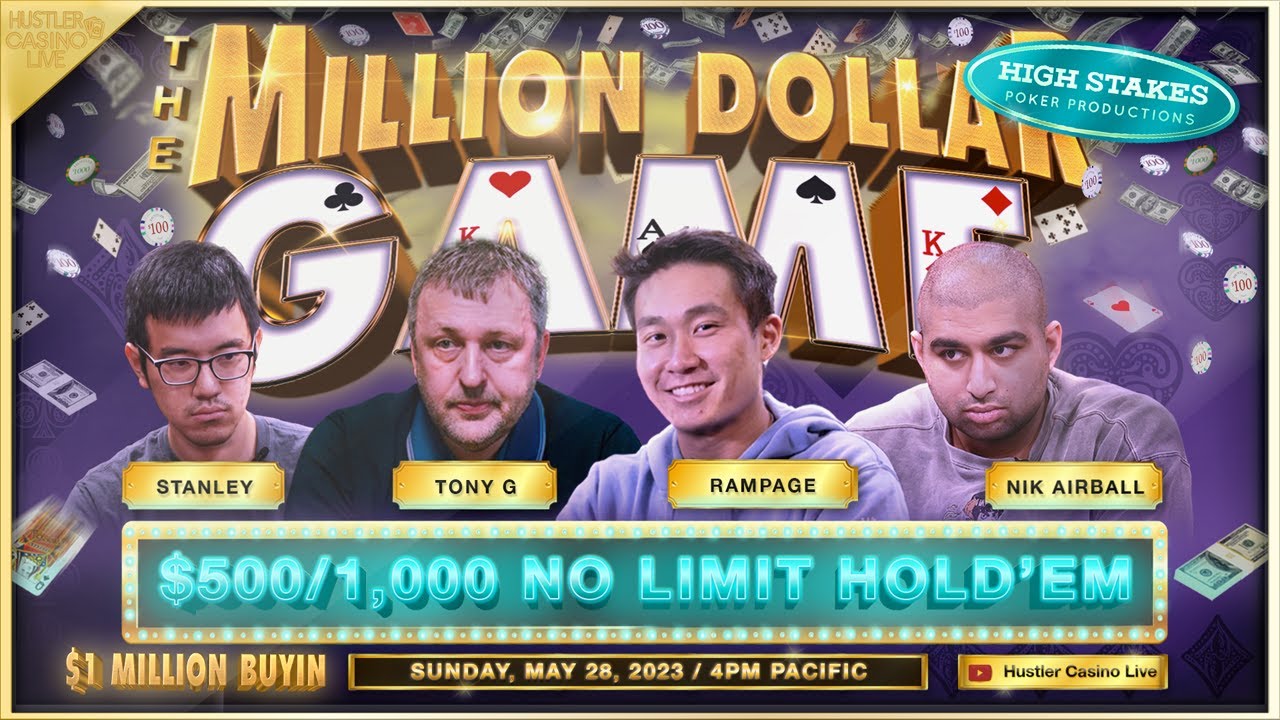 The Million Dollar Game – Day Three Recap
"On Your Bike, Tony! You and your ACES!"
It may seem like deja vu, but, no! Day THREE of Hustler Casino Live's Million Dollar Game event was upon us. On day two, we saw some incredible action seemingly brought on by the reduced buy-in amount of $500,000. Players returned to day three with a minimum of one million dollar buy-ins, though, and the made-to-gamble lineup came to play.
Returning from day two, players Huss, Nik Airball, Tony G, and Ben Lee, were joined by the Rampage, Wesley, Handz, Stanley Tang, and Pav. The biggest buy-in of the night came from Wesley – a whopping $3-million! There was no doubt prior to the start of day three that the game would play way bigger than the $500/$1,000 blinds and $2,000 big blind ante ($500/$1k + $2k BB Ante).
Hand after hand, there seemed to be history constantly in the making. Huge pots swelled thanks to straddles and 3- or 4-bets pre-flop, along with frequent rounds of the stand-up game. The unrecoiling banter from those we expected it from – and others we didn't – definitely helped to drive the action, too. We saw massive swings as players navigated through some of the toughest decisions we've seen on Hustler Casino Live to date. Not to mention, we saw the biggest bluff in televised poker history take place on the stage of Hustler Casino Live. The infamous Tony G even had a tough time against the new mix of pros and recreational players on day three.
About a third of the way into the show, Tony G made the most epic fold against Nik Airball. Absolutely steaming, he bolted out of his seat, took off his mic, and left the stage. Nik Airball laughed maniacally and yelled out, "On your bike, Tony! You and your aces!" The use of his own classic line against him and the shocking swings in variance ultimately contributed to Tony G exiting the building. However, before departing, he personally passed out long-stemmed roses to everyone around the Hustler Casino – each bouquet was nearly the size of a poker table.
Soon thereafter, Blank Check Ben arrived to fill seat five. He and Stanley Tang, in seat six, found themselves stuck between an out-of-the-blue rivalry between West Side Wesley and Hasan 'Huss' Onay. Despite the drama from those two, every player at the table would eventually be put to the test. It had to be difficult for the HCL content team to put together the Top 10 Hands of The Million Dollar Game Day 3 because the entire 10-hour stream was jammed packed with all the nail-biters any high-stakes poker live-stream viewer could want.
| | |
| --- | --- |
| Player | Cumulative Winnings |
| Hasan 'Huss' Onay | $1,100,000 |
| Rampage | $588,000 |
| Nik Airball | $341,000 |
| Tony G | $195,000 |
| Wesley Flan | $0 |
| Pav | -$289,000 |
| Ben Lee | -$360,000 |
| Handz | -$543,000 |
| Stanley Tang | -$1,000,000 |