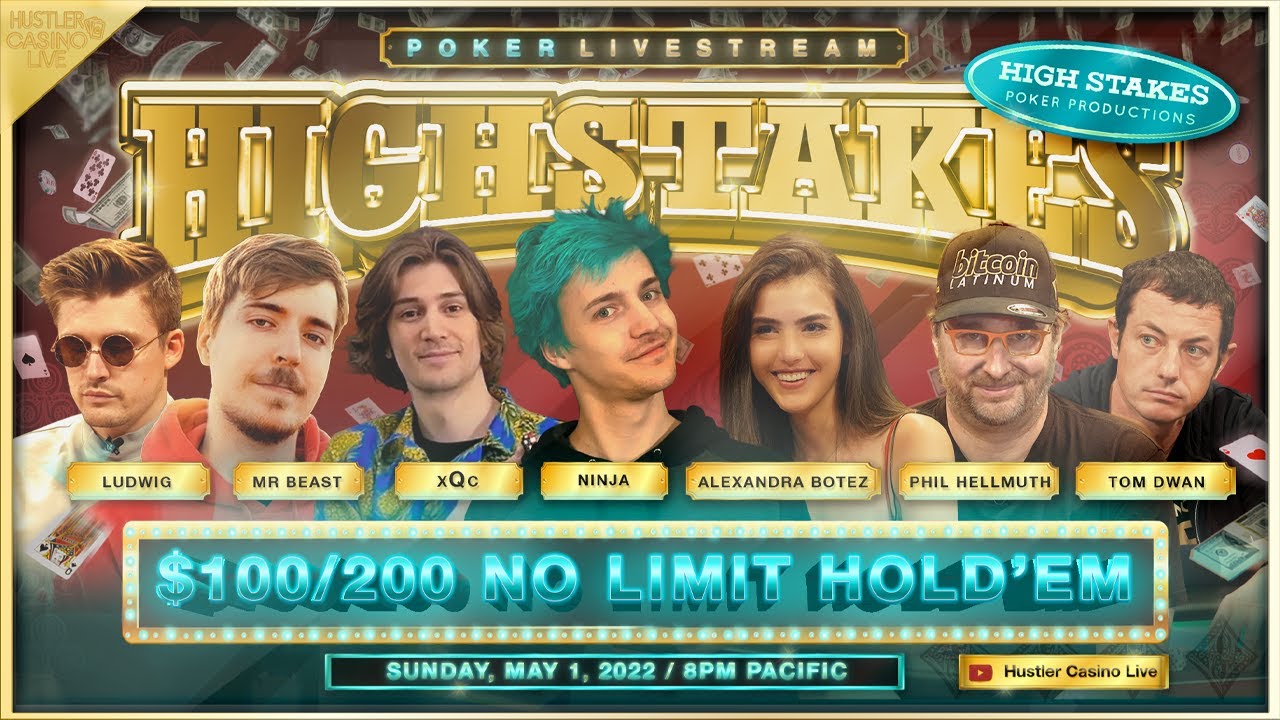 CELEBRATING THE ONE-YEAR ANNIVERSARY OF THE CREATOR GAME
Looking back to the historic, action-packed night of high stakes cash game poker featuring iconic streamers alongside legendary poker players.
The streaming and poker communities immediately buzzed with excitement when Hustler Casino Live made their announcement of "THE BIGGEST EVENT IN POKER LIVESTREAM HISTORY!!!" As soon as the line-up was released late-April 2022, everyone took to Twitter and all of social media with great anticipation to watch the Internet's most prolific personalities take on the biggest names of the poker world. Today, we take a look back at the biggest event in live poker history – the MrBeast High Stakes No Limit Hold'em Cash Game (also known as The Creator Game) – where the titans of streaming and the legends of poker shattered records and crushed souls in the Crystal Room of the Hustler Casino.
Each player bought in for the minimum of $50,000 – meaning $450,000 was in play from the start. The stakes are $100/$200 with a $200 ante from the big blind. Plus, straddles and the seven-deuce game immediately in play. After a few hands, it quickly became apparent that "carnage" and "chaos" were straight ahead.
MEET THE PLAYERS
THE STREAMERS
@Ninja – Tyler "Ninja" Blevins could certainly be referred to as the Godfather of Gaming in comparison to his fellow streamers at the table the night of the MrBeast High Stakes Cash Game. Ninja's efforts online, as the #1 Twitch streamer of all time, and partnerships with huge gaming brands have been rewarded time and time again. He's even appeared on Family Feud – twice – and has made television and film cameos. But, one of the most prestigious moments for Ninja has to be when he made the cover of ESPN The Magazine, September 2018 – the first pro esports player to do so.
As for his appreciation for the game of poker, during his interview with Joe Ingram, Ninja humbly bragged that he took down an impromptu $20k buy-in tournament online against MrBeast, and others. Continuing, he reflected upon the surrealism of going from playing poker with his brothers on the ping pong table in his family's basement to the biggest stage of live stream poker.
@MrBeast The presence of MrBeast on the Internet cannot go unnoticed. Jimmy "MrBeast" Donaldson has made it his mission in life to make the world a better place – utilizing his YouTube dominance and philanthropic talents to do so. As soon as Ryan Feldman, producer and co-owner of Hustler Casino Live, learned that MrBeast had an affinity for the game of poker, he made it his mission to get Jimmy on the show. After his stellar performance, many viewers have been begging HCL to bring MrBeast back on to the show again.
@LudwigAhgren Ludwig, as his Twitch and YouTube fans know him – made his presence known online shortly after graduating college in 2017. In addition to his live streaming and podcasting content creations, Ludwig has become very well known in the eSports arena as a commentator and competitor. While nominated for and recipient of several streamer awards, most notably he won Streamer of the Year in 2022 at The Streamer Awards. The bombastic and suave Ludwig has a love for poker – and it shows.
Ludwig joked with Ingram at the top of the stream that, because of all the pressure to play well from social media, he would win five dollars and fold the rest of the night just to say he's booked a win against Tom Dwan and Phil Hellmuth.
@AlexandraBotez Hailing from the chess world and making her poker debut a few weeks prior to the HCL high stakes cash game is Alexandra Botez. From smack talking the Chess Hustlers of NYC to rapping "We Dem Botez" and to her hilarious blunder tilts during her live streams, there's no question why she has been so successful online. Over the last year since the Creator Game, Alexandra has dominated just about every poker game she's played.
It's difficult for seasoned professional poker players to consistently win in either tournaments or cash games, but Alex has proven to be able to adjust her strategy for each format. While plenty of well-known poker players got their start in chess, Botez's celebrity status and inventive marketing strategies have certainly contributed to shedding a light on the poker world that has undoubtedly grown the game within the chess community.
@xQc The quirky and lighthearted Felix Lenguyel, aka "xQc," former professional gamer, won The 2023 Streamer Award for Best Variety Streamer. xQc quickly rose to Twitch fame and remains to be one of the highest paid and most watched live streamers of all time. During his pre-game chat with Joe Ingram, xQc predicted he would either win a lot of money with his two $50,000 bullets or he'd lose it all – "There's no point in stopping if you're gonna go home with zero."
@slime_machine Edgy and spitfire Internet personality, Slime, co-hosts The Yard podcast on YouTube with his best friend, Ludwig. Slime also commentates gaming streams while also playing a mix of video games on Twitch.
THE POKER PROS
@Mister_Keating Alan Keating has become well-known for his never-fold poker strategy and history of massive pots on Hustler Casino Live. The cool, calm, and collected former poker pro – turned investor and recreational poker player – predicted there would be "blood" during the all-time match against the confident and big personalities at the table. When asked about his strategy perspective, Keating replied, "It comes from life – the whole idea is living with the outcome of your decisions and not decisions that other people make."
@TomDwan Well known for his online handle, "durrrr", Tom Dwan began to accumulate his vast amount of winnings at the age of 17 around 2007 – climbing the stakes from pennies to millions in only three years. Tom would etch his name into poker history by cashing in all the big tournaments while also becoming a household name due to his appearances on countless cable network poker shows.
@Phil_Hellmuth The 16-time WSOP Bracelet winner, Phil "The Poker Brat" Hellmuth, has won his fair share of cash games on live streams and poker shows. However, as if to predict the future, Hellmuth tells Joe Ingram at the top of the show, "I understand I'm the big favorite, but that doesn't mean I'm gonna win."
THE GAME
Streaming on both HCL and Ludwig's YouTube channels, nearly 100,000 concurrent viewers tuned in at the time of the HCL High Stakes Cash Game. The game has been viewed over four-million times on both channels, alone, in the year since. Countless followers across all social media and streaming platforms continue to be introduced to the game of poker as a result of this special live-streamed event. People from all corners of the Internet continue to talk about this game every day on social media – the highs, the lows, and the soul-crushing blows.
As many of us credit the Moneymaker Effect for igniting our own interest in poker, the MrBeast High Stakes Cash Game on HCL will live as that same moment for the newest generation of the poker community. Join us in celebrating the one-year anniversary of what will always be the biggest night of poker live stream history!
Hustler Casino Live, owned and operated by High Stakes Poker Productions, broadcasts their free live stream on YouTube from Los Angeles, California, Monday through Friday starting at 5 p.m. PST.